Demolition, Earthworks & Millpond Remediation
2019-2020
Sunny Bank Mills is a prestigious mill development at the heart of Farsley, some 15 years ago textile production ceased, and the redevelopment commenced with cafes, art gallery, office space and gymnasium now occupying a large proportion of the site.
In July 2019 Fastsource Limited were employed to conduct the demolition and remediation of a series of redundant mill buildings to facilitate the construction of parking areas to enable the redevelopment of further mill buildings into commercial space.
This was to be a challenging task given the construction of the buildings; traditional stone mill units and a large concrete frame building over a mill pond occupying the central area, all inter-connecting and immediately surrounded by public areas.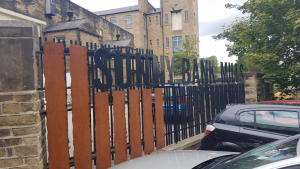 Scaffold was erected to the front elevation to enable the manual collapse of the initial mill unit to form an access, up to 400m2 of facing stone was salvaged for reuse on site to ensure the making good was in-keeping with the traditional stonework of the mills
Traditional stone roof slates, stone & timber were stripped and sold as salvage material
Once sufficient access was created by manual demolition the heavy machinery could move in and increase the pace of the demolition works
Hydraulic attachments; Selector Grab and Pulverisor fitted to 36 tonne 360 excavators were used to break down the structures
The central concrete frame mill unit was to be the most technical element of the works due to adjoining structures and underground mill pond
With the technical experience of the site team the structure was demolished in a single week
Finally the millpond could be cleared and backfilled, hardcore was hauled to Fastsource Recycling centre, processed to 6f5 material and returned as backfill